Subscribe to Softrave Blog to get latest news and updates
Most wanted in show business - here it is!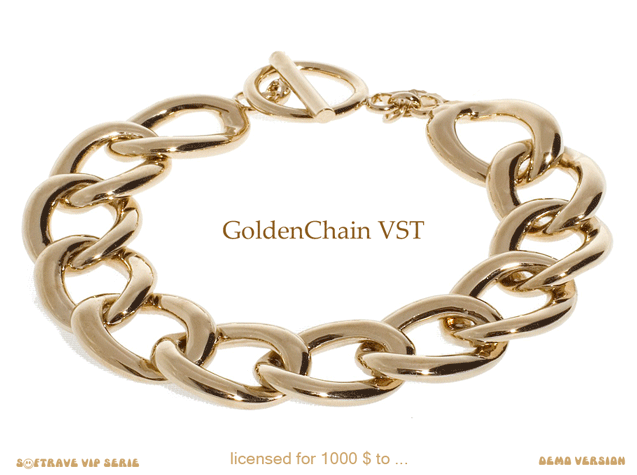 Softrave presents GoldenChain VST

This plugin adds luxury and expensiveness to mix. I t also demonstrates to people around that you
are rich, sucessfull and VIP.
GoldenChain Vst can be used almost in all styles of music, especially in Hip Hop,Pop and RnB styles.
This plugin empower status, power and glory of its owner and its not making ANY other changes to mix.
Its pure virtual Golden Chain Vst for real Vip persons
Perfect unique personalised birthday gift for your beloved sound engineer or producer
price of plugin is
1000 USD
You can download demo of GoldenChain VST at legal torrent tracker to check out if it make enough powerful low frequency at your tracks. Or download it at Mediafire
You think its not expensive enough for VIP person? Welcome to check PlatinumChain Vst here - 5000 or Diamond Sound Vst for 10 000
You can purchase GoldenChain VST with Paypal or debet & credit card.
This software is only for PC, not compatible with MAC
Use this button to purchase GoldenChain VST for
1000 USD
You can use Skrill Moneybookers to buy plugin if you dont have paypal and you want to pay with bank transfer
Contact me at this email and i will tell you how
to make purchase with SKRILL

We well send you instrument as soon as possible, normally the same day, 2 days delay is possible sometimes.
Example of GoldenChain Vst plugin effect - music by Green Dragonfly

and some video from Rick Ross for those who dont get the message properly


License
We provide customers personal signed copy of GoldenChain VST Your name will be written at plugin interface,
This plugin is licensed for one person only, you have no rights to share this plugin with other people.


We want to protect our intellectual property that we sell for affordable price.
Thank you for understanding.


This plugin was created by SOFTRAVE (c) (p) 2011
Programming - Dmitry Tikov,
More instruments and fx from Softrave http://www.tikov.com/softrave/softrave.htm