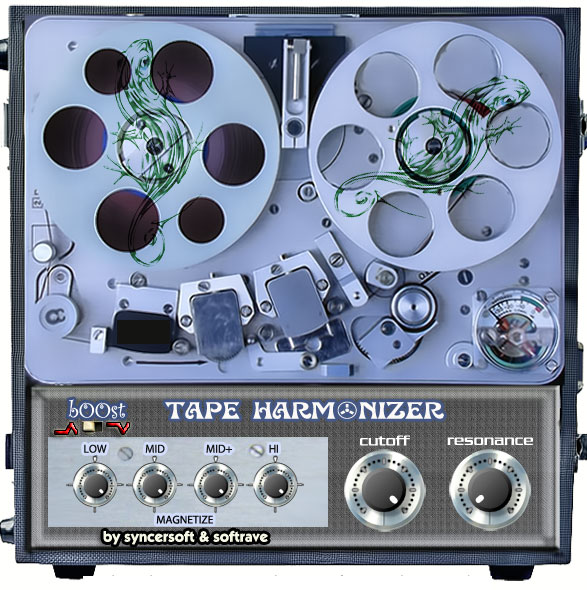 Syncersoft & Softrave presents TapeHarmonizer VST 1.5

Tape Harmonizer is revolutionary plugin that enriches sound with creation of new harmonics using unique new psychoacoustic algorithm: crossmodulation of harmonic operators and imposition of new frequencies. This plugin is based on technology of enriching high, low and mid frequencies used in BassBooster plugin and GuitarBooster plugin with Moog style style warm analog like filter used in legendary TM - 200X synth ver 1.8
Our idea was to create emulation of professional Reel to Reel sound that can make your sound warm and analog -like. With TapeHarmonizer you have control over 4 bands of frequencies. You can also play with filter to emulate frequency response of tape , to create special old tape effects, thats why filter controls have function midi learn. or you can use this plugin just as phat analog like filter.

Plugin creates effect of intellectual boosting of harmonics in terms of Intellectual Information Technology (IIT)
Development of this plugin was inspired also by psychoacoustics research of Shlejonkin Alexandr and russian works on mathematical physics.
Price for plugin is 14,55 EU/19,99 USD
Download demo of TapeHarmonizer VST here at Mediafire

You can also purchase TapeHarmonizer together with other 3 plugins
in Harmonics Pack for 39,99 € / $49,99
This software is only for PC, not compatible with MAC
14,99 EU
or 19,99 USD with this button
You may also be interested in:
License
We provide customers personal signed copy of VST Your name will be written at plugin interface.
This plugin is licensed for one person only, you have no rights to share this plugin with other people.
We want to protect our intellectual property that we sell for affordable price. Thank you for understanding.
This plugin is created by SOFTRAVE © (p)2012
Programming, design - Dmitry Tikov
All rights reserved
---
Order T-shorts and other gifts with Softrave Robot At This Shop
---
Plug-in vendors (Community of developrs): ToneBytes / Softrave / Syncersoft