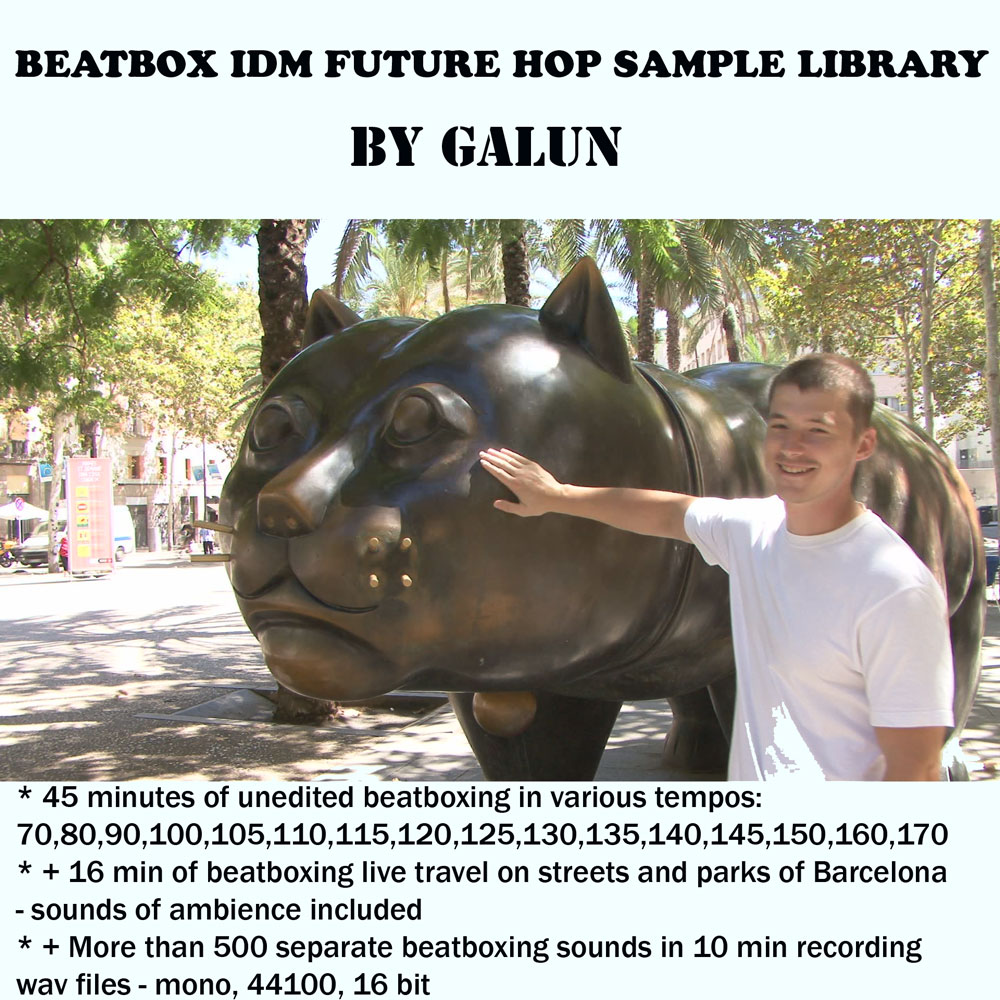 Very special sample library
Beatbox Future Hop Idm Sample Library by Galun
Unique talent of Galun is that he is beatboxing in genres that fits experimental electronica genres like idm, future hop, so sometimes he sounds like he is making beatbox translation of some tracks from Warp label catalogue.
More than 1 hour of 70,80,90,100,105, 110,115,120,125 130,135,
,140,145,150,160,165, 170, 16 bit mono 44.100 Hz wav
This recording was not edited , samples are not converted in those typical ready to cook packs. Recording is sorted to different tempos order. You are welcome to edit those takes by yourself in a way it fits your sampler or DAW. Also sound travel beatboxing at Barcelona (city and ambient noise included to recording) and separate sounds pack to create your own beatboxing Galun drum kit are included.
8,59 Eu
9,99 USD
If you are looking for professional Beatboxing this sample Library will blow you away! Over one whole hour of beatboxing at its best! The amazing rhythms, sound range, and expert delivery will be perfect for music producers that are working in electronic music genres like hop, future, IDM, and more! Get the best beatbox samples all right in here in one amazing place! These unedited recordings are an amazing testament to Galuns Beatbox skills! The samples come in several tempos from 70, 80, 90, 100, 105, 110, 115, 120,125, 130,135, 140, 145, 150, 160, 165, 170 BPM! The 16 bit mono 44.100 Hz wav samples will leave you as spellbound as the incredible and mind boggling talent that this beatbox genuis possesses! In this Beatbox sample library, you get the most and the best beatboxing possible all in one easy to use place! Try it now to see just how awesome Galun is.
Whether you are a DJ, music producer, sound effects fan, music fan, or you just dig great beatbox rhythms and translations, this sample library is a must have for all!
• Wide ranging samples
• Amazing beatbox skills
• Amazing sound quality
• Many tempos and styles
• Great for music producers
• Future hop electronica samples
• 16 bit mono 44.100 Hz wav samples
• Editable to fit your sampler or .DAW
• Separate Sound tracks to Create your own Galun drum kit
Don't pass up you chance to own this beatbox sample library! The freshest beats that have ever been boxed! Get them now! You won't be disappointed!