GAMEGIRL VSTI pack 1.0
 8 bit chiptune revolution!
GAMEGIRL  VSTI 1.0 pack is based on samples from LSDJ program for making chiptune music at Nintendo Gameboy with help of some special  cartridge programmed by Johan Kotlinski. More info about it here at WIKI
Sound engine of Gameboy is 8 bit so we provide you real 8 bit quality, not software emulation.
For this moment Gamegirl VSTi pack contains 5 synths
3 drums, wave vsti and noise vsti. Gamegirl vsti pack2.0 is in development with Gamegirl Pulse1, Gamegirl Pulse 2 and Gamegirl Synth. Pack 2.0 will be free upgrade to all pack 1.0 users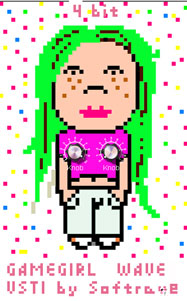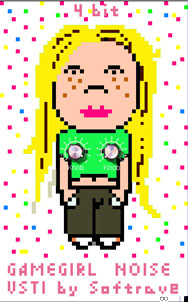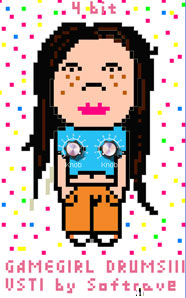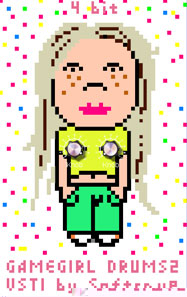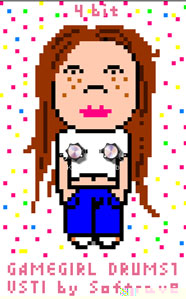 Short strange demo of music made with Gamegirl 1.0 pack of VSTis
Just to show the colour of sound of Gamegirl VSTi
This software is only for PC, not compatible with MAC
 This VSTi designed for use in 4 bit ,8 bit, chiptune, techno, electro, idm, minimal  and experimental music.
GAMEGIRL Vsti was created by Dr Tikov 
Gameboy with LSDJ cartrige was provided for sampling
by Dimitry Ghost from Disconinjas label
Gamegirl picture created by Set Sacrecoer
This VSTi was created with permission of Johan Kotlinsky LSDJ cartrige creator. You can purchase LSDJ music cartriges for Gameboy at his website
How to get GAMEGIRL VSTI pack 1.0 in your studio
After that we will send you archive files of GAMEGIRL VSTI pack 1.0  to your email adres included into message about paypal donation.
Attention to Maс users
You cant use Gamegirl  VSTi for Maс because its dll files but you can use it as GAMEGIRL sample pack in sf2 and Halion fxp format to put it in your sampler at your favorite Macintosh. Please send us message that you need samples for Mac.
plugins are for PC 32bit only. You can use JBridge to use it in 64 bit DAW
Get it here https://jstuff.wordpress.com/jbridge/
Purchase 11 eu
15 USD
usually we send plugin the same day, sometimes it take 1-3 days.
This software is only for PC, not compatible with MAC
Users of Win 7 sometimes have issues with plugins made with Synthedit please read here