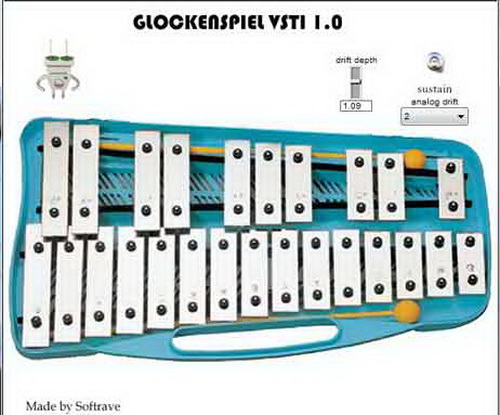 Glockenspiel VSTi is based on samples of real  percussion instrument made of steel called Glockenspiel (Metallofone). 
It has 8 layers of velocity so you can feel some natural sound of Glockenspiel in your studio 
Glockenspiel Vsti was created by Dr Tikov with samples made of real instrument
It was sampled from note G4 and 2 octaves up. With this VSTi you can create also Bell like type of sounds low notes that can be useful in some projects.
When you use Glockenspiel VSTi probably its good idea to add a little bit more middle frequencies. it depends on mix of course.
You can also add analog drift vibration to create Vibrafone type of sound effect if necessary
Youtube Demo
You can download Demo of Glockenspiel VSTi at Mediafire
Its limited to 3-4 sounds so try note number A4 to see how velocity works for timbre of sound
plugins are for PC 32bit only. You can use JBridge to use it in 64 bit DAW
Get it here https://jstuff.wordpress.com/jbridge/

11 EU button
15 USD button
We well send you instrument as soon as possible, normally the same day, 2 days delay is possible sometimes.
plugins are for PC 32bit only. You can use JBridge to use it in 64 bit DAW
Get it here https://jstuff.wordpress.com/jbridge/
Users of Win 7 8 10 sometimes have issues with plugins made with Synthedit please read here
This software is working on PC,not on Mac