The difference between Hang 2. 0 3.0 and this version is that newer version have control over analog random drift of sound that create slight deviation of every hit that make sound more realistic & alive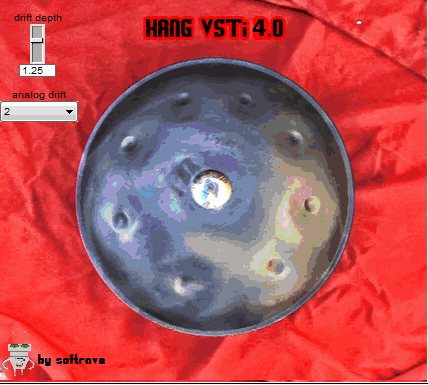 This VSTi designed for use in chillout, meditative, ethnic, IDM,  and experimental music.
You can download Demo of Hang 4.0 VSTi at Mediafire
Its limited to 3-4 sounds so try note number C4 to see how velocity works for timbre of sound
Short demos of music made with Hang Sample pack
Toccata and Fugue in Dm for Organ played on Hang VSTI.mp3
Dr Tikov was lucky enough to meet one day on streets of Barcelona city the inventors of Hang instruments –
Felix Rohner and Sabina Schärer and to receive their permission to built this instrument.
So if you enjoy virtual version please go and buy the real one from them!
Hang Vsti was created by Dr Tikov and Max Oro Hang player from Barcelona
You can look for his video here.
Hang VSTi is also good with Korg padcontrol see video below.
This software is only for PC, not compatible with MAC
its 32 bit
Use jBridge to use plugin in 64 bit systems
We well send you instrument as soon as possible, normally the same day, 2 days delay is possible sometimes.
plugins are for PC 32bit only. You can use JBridge to use it in 64 bit DAW
Get it here https://jstuff.wordpress.com/jbridge/
Users of Win 7 sometimes have issues with plugins made with Synthedit please read here