KALIMBA 1.0
Kalimba VSTi is based on samples of real African percussion instrument made of steel called Kalimba).  It has 6 layers of velocity so you can feel some natural sound of kalimba out of your speakers   We also added Analog drift control to add analog touch to samples or to create new vibrato effects.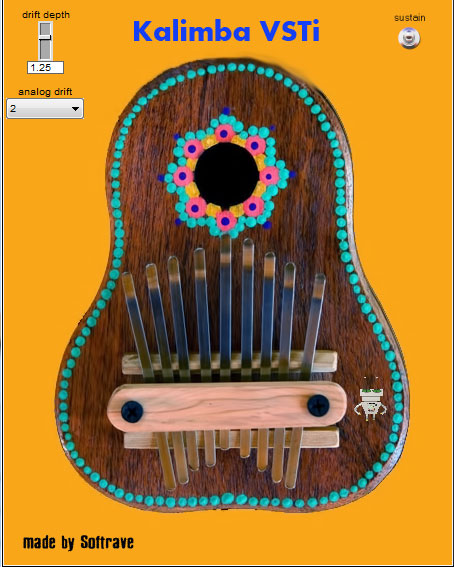 Original notes that were sampled are in diapason D3 F5
Lower and higher note sounds less realistic but still useful
Youtube Demo nothing special. just some notes to demonstrate multilayered sample pack.
You can download Demo of Kalimba VSTi at Mediafire
Its limited to 3-4 sounds so try note number C4 to see how velocity works for timbre of sound
After that you will receive your personal licensed copy  Steeldrum VSTI   to your email address included into message about paypal donation. usually we send plugin the same day, sometimes it take1-3 days.
plugins are for PC 32bit only. You can use JBridge to use it in 64 bit DAW
Get it here https://jstuff.wordpress.com/jbridge/
Summer Sale for Kalimba VSTI Until 1st of September
6 Eu Button
_________________________________________
Prices before Sale
11 EU button
15 USD button
We well send you instrument as soon as possible, normally the same day, 2 days delay is possible sometimes.
plugins are for PC 32bit only. You can use JBridge to use it in 64 bit DAW
Get it here https://jstuff.wordpress.com/jbridge/
Users of Win 7 sometimes have issues with plugins made with Synthedit please read here
This software is working on PC,not on Mac