LADY ANNA VOICE & EFFECTS SAMPLE LIBRARY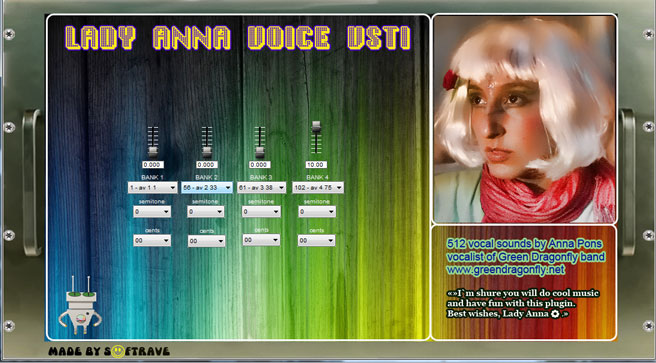 This VSTi is made of 512 different female vocal sounds , effects, jokes and notes, made by Anna Pons, charismatic singer of pop punk band Green Dragonfly from Barcelona, Catalunia, Spain. It contains 4 banks with 128 vocal sounds each that can be properly pitched and mixed in proportion you want. This instrument was developed to use in wide spectrum of modern electronic music, from dance to experimental styles. Plugin was developed by Softrave company, famous for its addiction for Bass Enchancing and weird sampling
You can download  Free version of LADY ANNA VOICE VSTi with 20 free sounds at Mediafire to try her voice in your mixes.
Youtube Demo of instrument is here
All sounds except drums are made with Lady Anna Voice VSTi
Track of Retranslator project made only with sounds of Lady Anna VSTi
Price of Lady Anna Voice VSTi is 20 USD / 15 EU
This plugin is for PC only, not compatible with Mac
plugins are for PC 32bit only. You can use JBridge to use it in 64 bit DAW
Get it here https://jstuff.wordpress.com/jbridge/
15 Eu button
20 USD
Normally we send compiled plugin within 24 – 48 hours after purchase
And also Special Offer
Lady Anna Voice VSTi + Sample Library Lady Anna Voice Effects and Sounds
23 Eu
30 USD
License
We provide customers personal signed copy of LADY ANNA VOICE VSTi. Your name will be written at plugin interface,
This plugin is licensed for one person only, you have no rights to share this plugin with other people.
We want to protect our intellectual property that we sell for affordable price.
Thank you for understanding.
Users of Win 7 sometimes have issues with plugins made with Synthedit please read here
For Mac Users and happy owners of different Sampling Devices and DAW programs
we`ve made special Sample Library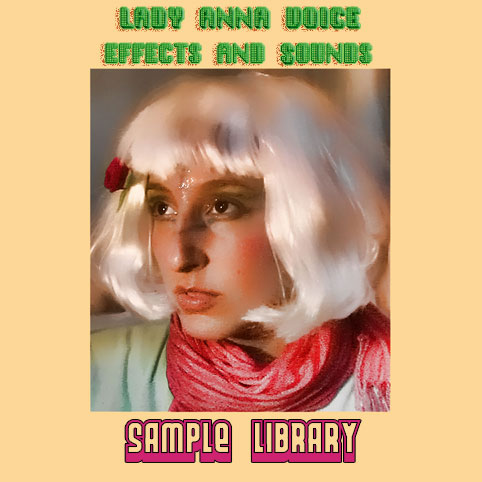 Youtube Demo with some sounds from it here
Pad sound is not so interesting but we include it for this presentation
It contains 560 different female vocal sounds , effects, jokes and notes, made by Anna Pons, charismatic singer of pop punk band Green Dragonfly from Barcelona, Catalunia
Library is 32 MB 560 wav files 16 bit 14400
and cost
9,99 usd
9,99 Eu
We will send you your sample library as soon as possible. Normally its same day but 2 days delay is possible sometimes. Thank you for patience.