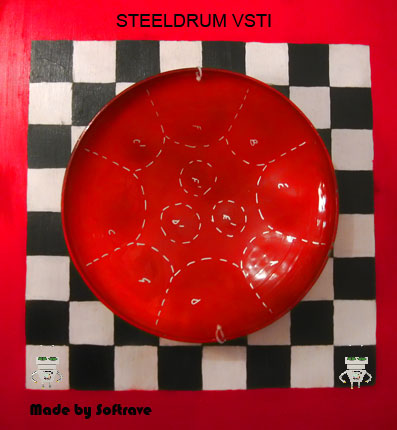 STEELDRUM VSTI 1.0
Steeldrum Vsti was created by Dr Tikov with samples of steel drum from Trinidad and Tobago.
Original notes that were sampled are in diapason C3 F4
Lower and higher note sounds less realistic but still useful
When you use Steeldrum VSTi probably it's good idea to add a little bit more middle frequencies. It depends on taste, of course.
You can download Demo of Steeldrum Demo VSTi at Mediafire
It's limited to 3-4 sounds, so try note number C4 to see how velocity works for timbre of sound
After that you will receive your personal licensed copy  Steeldrum VSTI   to your email address included into message about PayPal payment.

11 EU button
15 USD button
We will send you the instrument as soon as possible, normally the same day, 2 days delay is possible sometimes.
Users of Win 7 sometimes have issues with plugins made with Synthedit please read here
plugins are for PC 32bit only. You can use JBridge to use it in 64 bit DAW
Get it here https://jstuff.wordpress.com/jbridge/
Users of Win 7 sometimes have issues with plugins made with Synthedit please read here