Vintage Analog Filter VST 1.1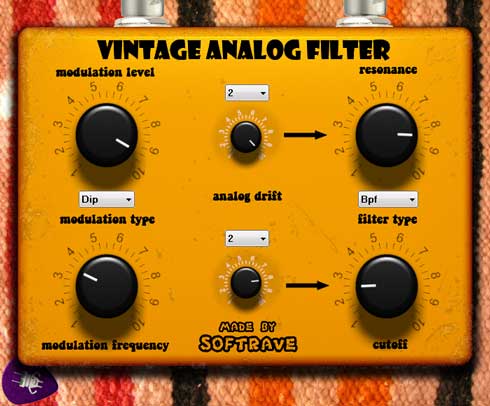 Vintage Analog Filter Vst is constructed to emulate analog instability of electric circuits of vintage filters. You can control the level of analog detune with analog drift section. you also have big choice of waves to modulate filter to make psychedelic, cosmic or just disco and house effects.
With this plug you can add some vintage analog feel to boring digital sound.
This pedal was inspired by guitar pedals made by Electroharmonix.
Download Demo Version of Plugin
To enjoy Midi Learn function of plugin please create midi track for your effect and use your midi controller.
This software is only for PC, not compatible with MAC
plugins are for PC 32bit only. You can use JBridge to use it in 64 bit DAW
Get it here https://jstuff.wordpress.com/jbridge/
Users of Win 7 sometimes have issues with plugins made with Synthedit please read here
You can purchase plugin for 11 Eu
or 15 dollars
6 Vintage Effects VST Vintage Analog Filter VST, Vintage Double Phaser VST, Vintage Analog Ring Shift Modulator VST, Vintage Space Chorus VST, Vintage Vibe Stereo, Vintage Flanger Chorus Stereo
Purchase pack for 31€ / $40 /
We well send you plugin as soon as possible, normally the same day, 2 days delay is possible sometimes.
Users of Win 7 sometimes have issues with plugins made with Synthedit please read here
This software is working on PC,not on Mac