BassBooster VST or GuitarBooster VST (choose which one you like to be included in pack),
TapeHarmonizer VST 1.0, TapeFilter VST, + Analog Techno Kick VSTi 3.0 PRO
Special offer from Softrave & Syncersoft.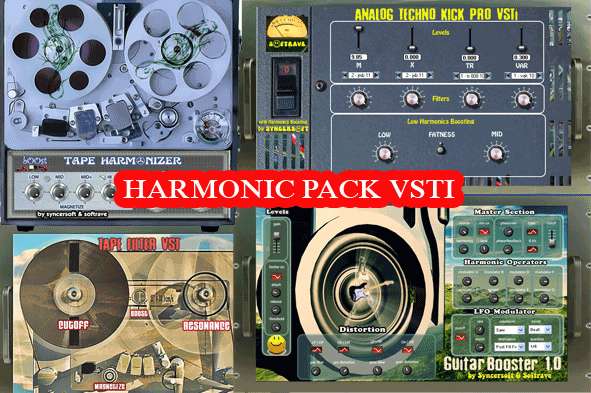 You can purchase 3 effects and one Vsti in one pack.and save 40 %
Harmonics Pack 1.0 include
BassBooster VST or  GuitarBooster VST  you choose the one you like
send us message which one you like during Paypal purchase
You can download demo versions of Harmonics Pack here at Mediafire
You can purchase pack for 44,99 Eu EU | 49,99 USD
plugins are for PC 32bit only. You can use JBridge to use it in 64 bit DAW
Get it here https://jstuff.wordpress.com/jbridge/
44,99 Eu EU
49,99 USD
License
We provide customers personal signed copy of VST Your name will be written at plugin interface.
This plugin is licensed for one person only, you have no rights to share this plugin with other people.
Users of Win 7 sometimes have issues with plugins made with Synthedit please read here